Monthly Archives:
August 2011
If you've joined up with our Facebook page, you may have seen this article I posted a few days back. HP is throwing in the towel in the tablet/smart phone realm. Or are they?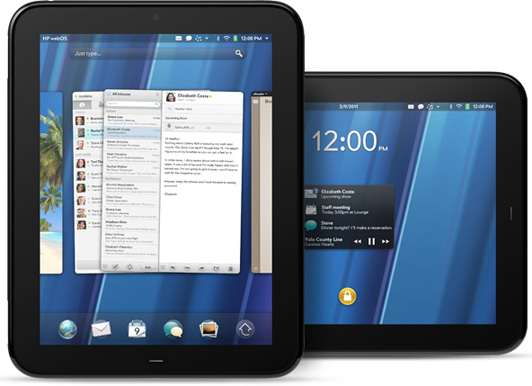 HP has said they're searching for licensing partners for WebOS. But many publications are suggesting HP could, and should, offer WebOS as an open-source operating system and open up licensing so device manufacturers can create the tablets and phones running the system for them. They could then recoup their costs via advertising (basically Google's model for Android). So why would companies jump ship or devote resources to WebOS instead of Android? This.
As much as Android is still 'open-source', Google now has their hands in the Android cookie jar thanks to their purchase of Motorola. If HP were to promise to never make another WebOS phone or tablet, they could attract the interest of some of the top (non-Motorola) Android manufacturers like Samsung, and HTC.
So, back to the title of my article. Should you buy a WebOS tablet? Well, the price is right if you're not looking for a tablet with 3G/4G. If you can find one, and you're looking to buy a tablet right now, go for it. Why? Because if HP offers up WebOS as an open-source model, we could see an explosion of apps and new features. The OS may have a shaky future at the moment, but the hardware inside is still competitive and at $100/$150 it's a great price even if all you use it for is surfing the web, reading e-books, or playing Angry Birds.
Or you could always load Android on it. The team working on porting over Gingerbread suggests they'll have something to show in the next few days, and hopefully they'll be done in time for us to talk about it on this week's show. And for the price, it could put a small dent in Android tablet sales for a little while if the team gets Android working (and working well) and bargain hunters are willing to spend a little time and effort tracking down the last few TouchPads in the wilderness.
Let us know: are you considering buying a WebOS tablet this year? Or another tablet?
-PG
UPDATE: Wanted to share this interesting list from PC World of the 'Top 10 Shortest-Lived Tech Products'…guess what made the list! Enjoy.
RIM is doomed.
It's something you've heard a million times over in a million different blogs, forums, and news sites. "Look at all of Apple's apps!", they say. "Look at Android's impressive selection of phones!", they add. And yes, they're right. But it's not too late for the little Waterloo-based company that could. Here's a few small steps that I think could get them back into the race again:
More Apps on BlackBerry App World
Note I didn't just say more apps. It's true, there are a lot of features the other phones can pull off that Blackberry cannot because of platform-exclusive apps. But "more apps" shouldn't necessarily be a selling point. Not every app on Google's Android Market or Apple's App Store is worth having, and they certainly shouldn't be used as a cure-all to make up for a phone's deficiencies. What's more important than having "more apps" is having better apps, and being able to find them easily.
Now we reach the crux of my point. There are a lot of BlackBerry apps that are not on App World. And it boggles my mind. A great example is the Yelp app, which you can find by visiting the site on your mobile device on your BlackBerry, or on the app marketplaces of every other device maker (hilariously enough, I went to Yelp's site on my computer browser and clicked the link for the BlackBerry app and got a 404 error…oops!). But what happens when the app has an update? Some are programmed to tell you, but it's less of a headache when powerful and all-inclusive app management software is involved.
As another personal anecdote, when I started using foursquare it was not on App World. It was later added which actually caused more headaches because my phone couldn't decide whether it was installed or not. Then, the next time I went to reboot my phone, it uninstalled itself. I can't say for sure it was App World's doing but I can't help but feel if it were all centralized it would improve the user experience.
Speaking of Apps…
Viigo is an app maker RIM bought last year. Their app (also called Viigo) was a handy little RSS reader that was great for keeping up to date on news, sports, weather, etc. And it was exclusive. What a coup!
Until they stopped updating it and stopped putting out versions for newer models. Nothing on Viigo's site seems to indicate that work ever stopped on the app. But ever since I got a newer model Curve, I can't use it because my model isn't supported. And did I mention it's not on App World either?
Keep in mind, this is a developer owned by RIM.

To wrap up my point(s) on apps, they need to realize which apps are important, and focus their promotion of development that way. I may not care that I can't have my BlackBerry make shotgun noises when I shake it, like an iPhone. But I do care that I can't get Tweetdeck on it.
Timing is Everything
We've been promised Android apps on the Playbook for months, and it's something that's on the way apparently. But the constant delays and lack of news since it was first announced is hurting public perception and raising questions of whether it'll ever be a reality.
It's a symptom of a bigger problem: overpromising, and underdelivering. Last minute cancellations or pushed back release dates for phones are doing little to help the view of the outside world that RIM is constantly playing catch-up, and not succeeding at it either. You can't help but look at the Apple model, where they say nothing until it's almost ready (granted, it's easier to keep the world waiting with bated breath when you're the world's largest tech company).
Engage Your Audience
Taking a page from David Hall's book here. Admittedly, RIM does this really well already. Their @BlackBerryHelp Twitter account is always answering questions and offering tips. The BlackBerry Blog is updated regularly and has some very useful knowledge. And they make great use of hashtags on Twitter as well. But harnessing people's love for BlackBerry and turning that into good PR is the next step.
Making people who are already listening to what you're saying into brand evangelicals who will broadcast to their world their love of all things BlackBerry (for free in most cases) is important. Obviously email is a big reason to own a BlackBerry. But having that keyboard comes in handy with a lot of typing-heavy activities, like instant messaging. And some love BlackBerry because of how easy it is to use Twitter, especially with physical keys. Finding those people, who are already on your side (who appreciate your strengths while ignoring your weaknesses), and using them to your advantage is essential. Think: how many Apple fans do you know do this?
Know Your Audience
Ted's said this a million times, and I agree. BlackBerry used to be 'the business phone'. Not to say it still isn't in some circles. But the availability of apps mixed with the constant Orwellian monitoring of all incoming software makes Apple a safe haven with plenty of options, so some offices are jumping ship. Both platforms have their selling points, but I think where RIM may have started to lose their way was when they started focusing on consumer phones.
Don't get me wrong: there's money to be made in personal smartphones. Apple has made a killing in making a consumer-friendly phone and only recently started to break into the business world. Of course, as the biggest tech company in the world, Apple has a lot more money to throw around and dominate in both spaces. And it's clear RIM is going for a piece of that pie, but you've got to look at why people buy an iPhone and why they'd be persuaded to go with a BlackBerry instead. Certainly, it wouldn't be for games or to be the life of the party. At least, not right now.
That's why RIM needs to find their niche where they can be successful, profitable, and keep a steady market share. As I've said before, there's nothing wrong with being #3 as long as you're making money (though your shareholders might have a few words to say about that).
Comments and your thoughts are always appreciated!
-PG